Homemade Cannabis Coffee
Like many of us, you might have a favourite cup of coffee. You may also have a favourite strain of cannabis. You can combine these two favourite things into one great cup.
This is a solution for those who are trying to limit their caloric intake. This is a way to enjoy a special time with a beverage of your making, without consuming extra baked goods or candy. You can dose with a cup of your favourite coffee and maintain your intake levels.
Cannabis coffee is easy to make. You start by buying weed online in Canada from Ganjagrams, then make sure to decarboxylate your cannabis. You can then infuse it into oil, butter, milk, or sugar. This infusion can be used in your coffee or anything else you'd like to add it to.
In this post, we share some special coffee recipes that are a whole lot different than the kind that you'd get from the drive-through.
Decarboxylating Cannabis
The cannabis you receive from a dispensary does not contain active cannabinoids. They become active when you apply heat to them. Unless the cannabis is activated, it won't deliver the desired effect. To activate the cannabinoids before using them as ingredients, you should crumble your cannabis, spread it on a glass baking tray, and bake for 30 to 45 minutes at 230 degrees, checking every so often to make sure the cannabis isn't turning brown. Then pull it out of the oven and allow it to cool. It is now ready to use for infusion.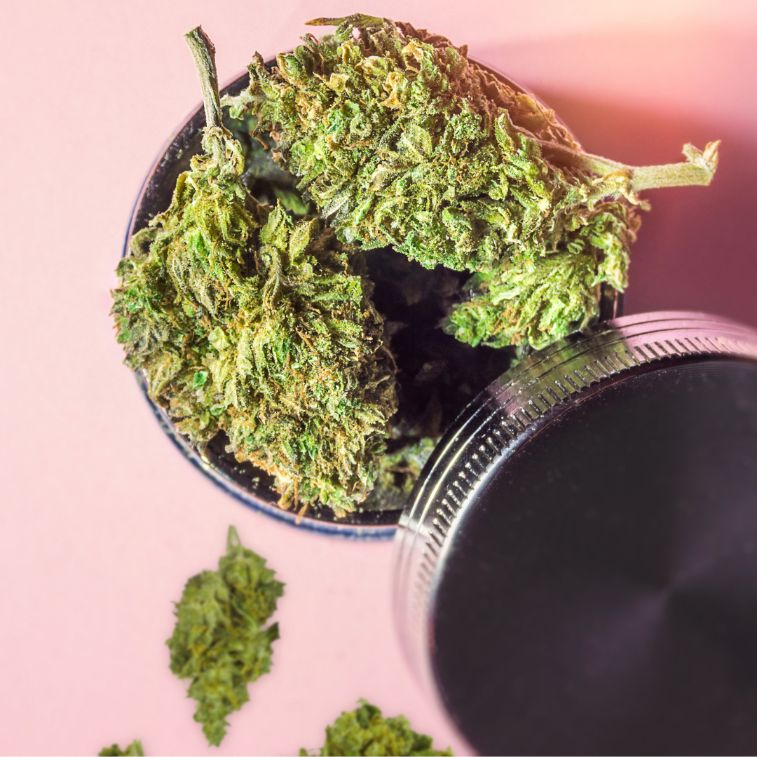 Cannabis Coffee Recipes
Cannabutter Bulletproof Coffee:
For those living the high-energy, no crashing lifestyle of the ketogenic diet, bulletproof coffee is popular. This cup of coffee isn't just a rush of caffeine, it is also a source of burnable fuel. This is a simple recipe, just put a cup of freshly brewed coffee into a blender with a bit of cannabis butter and a "smidge" of cocoanut-derived MCT oil. Blend. Pour into a mug and sip.
Flat Weed (white) Coffee:
Combine your cannabis-infused milk with milk that is not infused with cannabis. Brew two shots of espresso, and pour them into a cup, then add 1 ¼ cup of frothed milk. Add a tablespoon or two of cannabis-infused milk. If you want it sweeter, add sweetener or sugar to your espresso and then pour in the frothed milk, and infused milk.
Cannabis Frappe:
Made with a blender, this frozen cannabis coffee recipe is a cool and rich treat. Brew either espresso or strong coffee and pour it in a blender with 1 ½ cups of ice, 2/3 cup of milk, and two tablespoons of your cannabis-infused syrup. Blend, pour into a cup and enjoy.
Good Old Regular Cup o' Coffee (but with a kick):
Nothin fancy here, just that first cup of coffee in the morning, only this one includes cannabis-infused sugar.
Make sure to store your cannabis infusions in a child-proof container in the fridge. Decarboxylated cannabis is even more susceptible to light, heat, and air than other cannabis. This is also a way to easily identify these special ingredients apart from everything else in your fridge.
The Best Weed in Canada Comes from Ganjagrams
Whichever coffee recipe you choose, choose to buy from Ganjagrams, the best online dispensary in Canada. Ensure premium quality in every cup. When you buy weed from Ganjagrams, you're buying some of the best weed in the world, at the best price possible.